8th GeoConversation on "Geosciences and Archaeology: contribution to the study of historical building materials and techniques"
6th of October 2022 | 3:00 pm | Auditorium of the Geosciences Department of the University of Aveiro (Aveiro)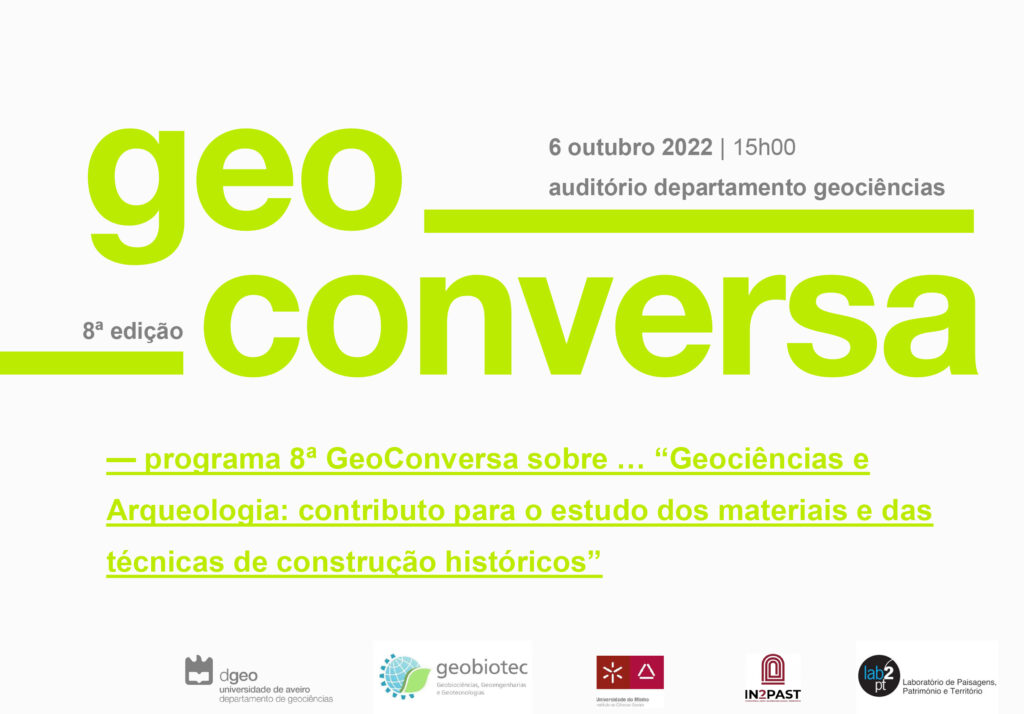 "Geosciences and Archaeology: contribution to the study of materials and historical construction techniques" is the topic that will be debated on October 6th, at 3:00 pm, at the Department of Geosciences (DGeo) of the University of Aveiro. The 8th "GeoConversa" arrives at the University of Aveiro (UA) for another cycle of talks and features a national and international lecture with speakers from the Spanish School of History and Archeology in Rome (EEHAR-CSIC) in Italy; University of Vigo (UVigo) and University of A Coruña (UDC) in Spain; University of Minho (UMinho) and University of Aveiro (UA) in Portugal; in a joint initiative of the Department of Geosciences of the University of Aveiro and GeoBioTec – GeoBioSciences, GeoTechnologies and GeoEngineering of the University of Aveiro and of the ICS and Lab2PT – Laboratory of Landscapes, Heritage and Territory, of the University of Minho, in articulation with the Nucleus of Students of AU Geology.
The organization is by Ana Fragata (GeoBioTec-UA) and Jorge Ribeiro (Lab2PT-UMinho).
This meeting will have a hybrid format. Participation is free.
O programa completo desta iniciativa pode ser consultado aqui.