SPEHC Lectures - Portuguese Society for the Study of History of Construction
28 Abril 2023 | 2h30-4h30 pm | Casa do Conhecimento UMinho (Largo do Paço, Braga) and Online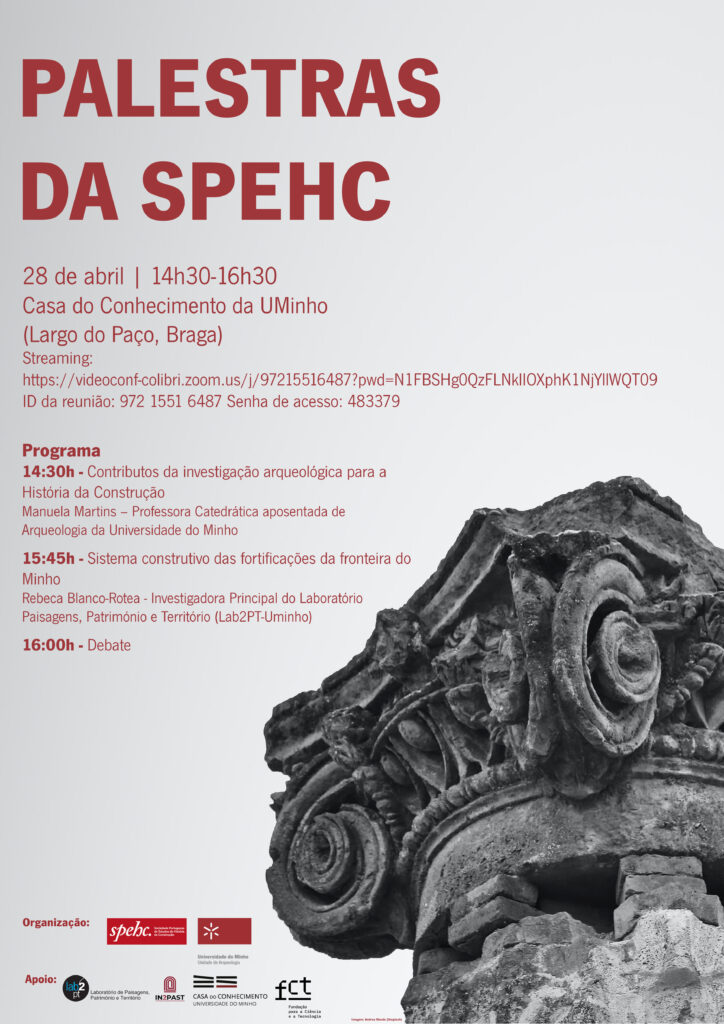 The Lectures of the Portuguese Society for Studies in the History of Construction – SPEHC will take place on 28th April, at 14h30. The event will take place in the Knowledge House of the University of Minho (Largo do Paço, Braga) and will be held in hybrid mode (via the ZOOM platform). Participation is free.
The lectures will have the participation of Manuela Martins (retired Full Professor of Archaeology from the University of Minho) "Contributos da investigação arqueológica para a História da Construção" and Rebeca Blanco-Rotea (Principal Investigator of the Laboratory Paisagens, Património e Território (Lab2PT-Uminho)) "Sistema construtivo das fortificações da fronteira do Minho".
SPEHC is a non-profit association with scientific interests, created with the aim of promoting and disseminating studies on the History of Construction and Constructive Cultures, considering in particular the case of Portugal and the territories of Portuguese influence.
Programme available HERE.