Lab2PT welcomes individual proposals to Individual Call to Scientific Employment Stimulus – 6th Edition
4 april — 3 may 2023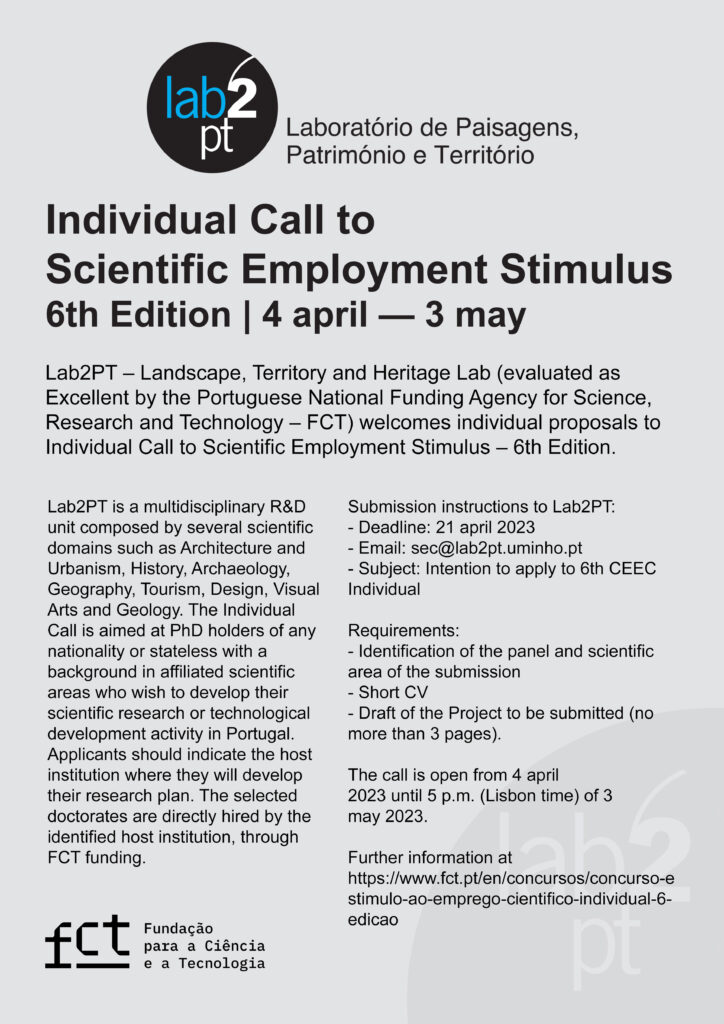 Lab2PT – Landscape, Territory and Heritage Lab (evaluated as Excellent by the Portuguese National Funding Agency for Science, Research and Technology – FCT) welcomes individual proposals to Individual Call to Scientific Employment Stimulus – 6th Edition.
Lab2PT is a multidisciplinary R&D unit composed by several scientific domains such as Architecture and Urbanism, History, Archaeology, Geography, Tourism, Design, Visual Arts and Geology. The Individual Call is aimed at PhD holders of any nationality or stateless with a background in affiliated scientific areas who wish to develop their scientific research or technological development activity in Portugal. Applicants should indicate the host institution where they will develop their research plan. The selected doctorates are directly hired by the identified host institution, through FCT funding.
Submission instructions to Lab2PT:
– Deadline: 21 april 2023
– Email: sec@lab2pt.uminho.pt
– Subject: Intention to apply to 6th CEEC Individual
Requirements:
– Identification of the panel and scientific area of the submission
– Short CV
– Draft of the Project to be submitted (no more than 3 pages).
The call is open from 4 april
2023 until 5 p.m. (Lisbon time) of 3
may 2023.
Further information at https://www.fct.pt/en/concursos/concurso-estimulo-ao-emprego-cientifico-individual-6-edicao