"CIRCULAR CIÊNCIA" | EJI-PATER III - Meeting of Young Researchers on Heritage and Territory studies
Submissions until 20 September 2022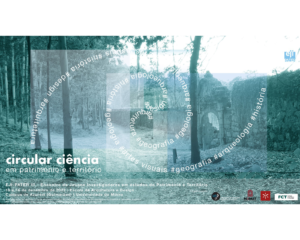 Lab2PT will resume the cycle of Meetings of Young Researchers in Heritage and Territory Studies, between the 15th and 16th of December, hosting the third edition of the EJI-PATER, dedicated to the theme "Circular Ciência".
The EJI-PATER III will take place on-site, at the School of Architecture, Art and Design of the University of Minho, on the Campus of Azurém (Guimarães), and aims to give young researchers, from the most diverse scientific areas, working the themes of Heritage and Territory (affiliated to Lab2PT, but also to other institutions), the opportunity to present their work, promoting exchange and interdisciplinary debates, based on the fundamental theme of circularity, so current, in order to explore affinities between different scientific approaches.
The meeting will include two days of work, and different types of sessions, round tables and workshops, aiming to strengthen ties between participants and provide a favourable environment for sharing ideas and experiences.
The deadline for submissions is the 31st of August. Participation is free.
+ info: https://cutt.ly/nK1gA52